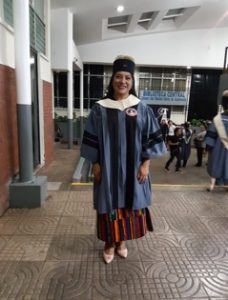 I imagine you've heard far too many "Me Too" stories not just on the news but in your own communities. This movement is all too relevant in Chajul too, but I am proud to say that Limitless Horizons Ixil is leading the way towards positive change. I am honored to have been Managing Director for the last 11 years, making the path easier for girls (and boys) in Chajul today than it was for me. 
Growing up in a war-torn village full of machismo culture as an indigenous girl, I faced discrimination because of my gender—especially in obtaining my education. My father and grandfather were both adamantly against me going to school because I was a girl. I owe a great deal of my success to my mother, who stood up for me and my desire to learn. She didn't have the opportunity to study past third grade but never gave up on wanting more for me.  
Beyond the disapproval from the men in my family, my parents also struggled financially to pay for my boarding school 5 hours away, the only option since there were no middle schools in Chajul at the time. I was fortunate to meet an international doctor who sponsored much of my education. Without his sponsorship or my mom's unconditional support, I may never have graduated from high school. 
Will you make a gift to open doors for
Chajul's youth to reach their potential too?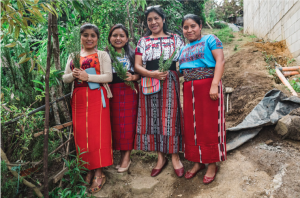 Working with Limitless Horizons Ixil enabled me to continue my studies through the college scholarships provided to staff members to study on weekends. In July, I became the first woman from Chajul to earn a master's degree! The past several years have been anything but easy—leaving home at 4 AM on Saturdays to travel four hours each way for class and staying up late to study after putting my four kids to bed—but I persevered for myself, my mom, and as an example for my children and the girls in my community of what they too can achieve.  
I am grateful for the opportunities I've received to get where I am today and I feel passionately about helping other girls access education too. When Limitless Horizons Ixil was founded 15 years ago, girls dreamed of being able to even attend middle school. Since then, our Youth Development Program has supported 150 girls with scholarships and full wraparound support services to thrive in middle and high school. Now, for the first time, girls in Chajul are graduating high school at the same rate as boys! A number of our graduates have also gone on to college and gotten professional jobs, and they are role models for younger girls who now enter our programs aspiring to go just as far.
We're also celebrating 10 years of our Saber Sin Límites (Limitless Knowledge) Community Library. We opened our library because girls did not have a safe place to read, study, and learn outside of school—even in their own homes. Now, girls flock to our library after school for tutoring, to do their homework, and to participate in fun activities with their peers.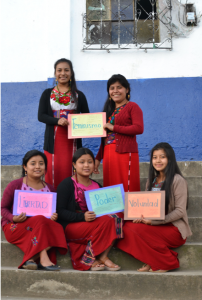 Still, it is far too common in Chajul to hear about abuse and harassment, including girls afraid to go to school because their male teachers or classmates will pursue them. Challenges like these not only threaten girls' educational attainment but also perpetuate gender inequality. Our team works hard to help girls address any individual issues, and to promote female empowerment and awareness of women's rights across our whole community. Marina, our Youth Development Program Manager, regularly meets one-on-one with each scholar, and they are encouraged to meet with our 
psychologist if personal concerns arise. We partner with women's rights organization Defensoria de la Mujer to provide workshops on domestic violence to our girl and boy scholars, and to their parents. The organization also trains our female fellows to lead workshops for younger girls about sexual harassment and how to identify and respond to inappropriate behavior. 
Will you join us to fight for girls' rights and their ability to achieve an education?
As a supporter of Limitless Horizons Ixil, I know that you and I both strive to foster resilience in the girls (and of course boys too) we work with. We want girls to understand and speak up when they are mistreated. We want girls to attend school without fear of being bullied, harassed, or assaulted—all of which are unfortunately common. We want to stop sex education from being taboo and to break patterns of injustice against women. So much progress has been made, but there is more to do.
I am proud to share that my mother returned to school and earned her high school diploma at age 40, after all of her children had finished their degrees. Every day I work hard so that my two daughters and the many other girls in Chajul won't suffer from the same challenges and injustices that my mother and I faced. We want the same things that you or any parent would want for their daughters too. 
Every empowered girl will make a difference in Chajul. 
Please invest today in the leaders of tomorrow. 

It truly takes a village to raise a child, and at Limitless Horizons Ixil we believe it takes a girl to change a village. Please join me in reducing the "Me Too" cases in Chajul and creating opportunities for educated girls to lead positive change in my community by making a contribution to our work this giving season.     
Thank you, gracias, & tantiuxh,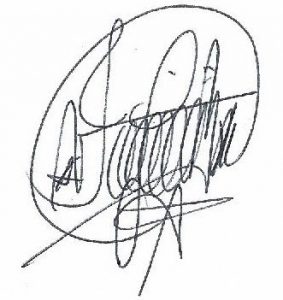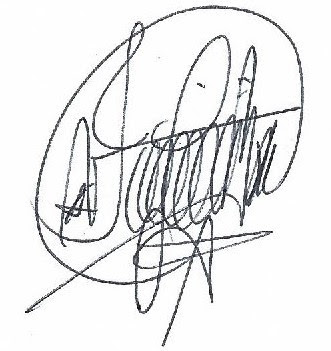 Verónica Yat Tiu
Managing Director
P.S. Donations of $100+ will be matched up to the first $10,000, so please give today! Gifts of $150+ will also enter you into a raffle to win a beautiful handmade weaving made by an Artisan Program mom.