The Limitless Horizons Ixil team is a dedicated group of individuals with a range of backgrounds and expertise. Our team reflects our organizational values and history of combining local knowledge and international resources with the expertise of individuals from all backgrounds. Local Guatemalan staff manage all programs, with operational support carried out by international staff.
---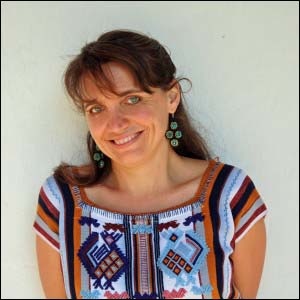 Katie Morrow
Executive Director & Co-Founder
Katie grew up in California and earned her bachelor's degree in community studies from the University of California Santa Cruz when she was 18. She then worked and traveled across the US, Latin America, Europe, Asia, and the Caribbean. Katie went back to school to study social work with a focus on international communities and completed her Master of Social Work from San Jose State. After Katie's first visit to Chajul in 2003, she was compelled by the beautiful culture and generosity of the people, juxtaposed with the lack of educational opportunities, particularly for girls. She saw within these girls, who were living in intense poverty, the desire and motivation to continue their education. Katie has spent a significant part of each year since then in Guatemala working alongside locals from Chajul to bring new opportunities to the community through education and community development. Katie has also led over 50 service-learning trips across Latin America since 2003, helping youth and adults gain appreciation for new cultures and bringing service projects to communities in need. Katie oversees all areas of Limitless Horizons Ixil's operations, including planning, partnerships, fundraising and fiscal management, programs, and staff management. 
Fun fact: Katie likes all things salsa—she is an avid dancer and loves her food spicy.
---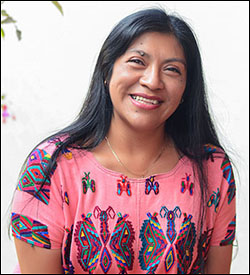 Verónica Yat Tiu
Managing Director
Verónica was raised in Chajul and lived there during and after the civil war. Through hard work, a scholarship, and her mother's sacrifice, Verónica is one of the first and few women from Chajul to become a university-educated professional and recently became the first woman from Chajul to earn her master's degree (in human resources). She went to primary school in Chajul, finished high school with a Bilingual (Spanish-English) Secretary degree from Colegio Encarnación Rosal in Quetzaltenango, and then studied at Mariano Gálvez University in Quiché where she earned her bachelor's degree in business management. Prior to joining Limitless Horizons Ixil as Program Director in 2008, Verónica gained extensive nonprofit and NGO experience as a secretary, community organizer, and case manager with previous positions at Chajul's health center, Con Tierra, Proyecto Ixil, and Save the Children. Verónica is proud of her work to provide opportunities for people in her own community, believing that "with the support of the people, we can work together on community development and make a real difference." Verónica's role has grown and she now oversees all of Limitless Horizons Ixil's programs, relationships, and staff in Chajul and also does direct case management with youth and families.
Fun fact: Verónica was a competitive basketball player when in school and continues to challenge our youth to games.
---
Zuliana Cristabel López Toledo
Guatemalan Assistant Director
Zuli was raised in San Miguel Uspantán del Quiché as one of four siblings. Although her parents never had the opportunity to study, they instilled in each of their children a desire for learning and encouraged them to attend school. From an early age, Zuli was both a great student and athlete. At the age of 15, she was offered a full scholarship to study physical education and play on the handball team at an athletic boarding school. After graduating from high school, she studied sports massage therapy before pursuing a degree in law at the prestigious Universidad Nacional de San Carlos de Guatemala. Zuli is passionate about helping to empower children, women, and families to overcome societal barriers, and has applied her education and abundant energy to that effect. She has worked as a supervisor for a state project that built homes for Guatemalans displaced during the Civil War, as a university administrator, and as a counselor of neglected children. At Limitless Horizons Ixil, Zuli provides direct support for all of our programs as well as maintaining partnerships with local organizations.
Fun fact: Zuli opened an extremely popular Zumba studio, where she teaches dance classes every evening after returning from a full day at Limitless Horizons Ixil.
---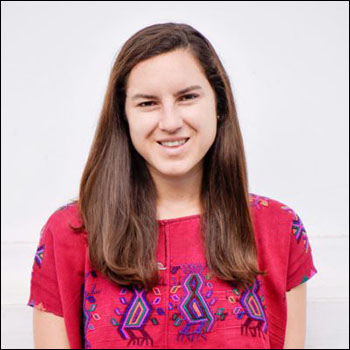 Heather White
Director of Development & Communications
Heather grew up in Brookline, Massachusetts and is now based in Portland, Maine. She earned her BA in Sociology and Spanish from Clark University and her MPA from Northeastern University's School of Public Policy and Urban Affairs. In 2014 Heather moved to Guatemala to work with a nonprofit in Antigua and since then has continued her career in communications and development roles. As the Director of Development & Communications, Heather manages and oversees fundraising, donor relations, and communications. 
Fun fact: Heather loves to run and bike and is often found exploring Maine's coastline and trails with her puppy, Luna.
---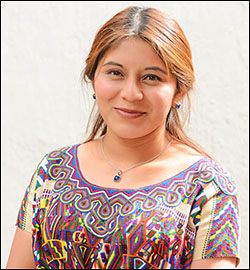 Odilia Cedillo
Colegio Horizontes School Director
Odilia grew up in the community of Salquil Grande in Nebaj, one of the three municipalities of the Ixil region. She completed her primary and middle school there. In 2008, for a variety of reasons, she could no longer continue her studies; among them, a lack of economic resources. In 2009, she was finally able to convince her father to enroll her in the Ixil Mixed High School of Nebaj and support her to study for the bilingual teaching certificate. She succeeded in graduating in 2011. Despite further difficulties, she began her university career in 2015. Three years later, she was awarded the department's medal of academic excellence. In 2019, she graduated with a Middle School Teaching Certificate in Pedagogy with a focus in Environmental Studies at the University Centre of Quiché-Nebaj; she is currently studying for her bachelor's degree. Odilia is aware that access to quality education for children and youth is very limited, especially in a country where it is not a priority; however, she is sure that anyone can be a change-maker if they have innate motivation, self-determination, and the ability to defy expectations and act with conviction and purpose. She is delighted to be working with Limitless Horizons Ixil to expand the organization's impact with the launch of middle school Colegio Horizontes and excited to directly contribute to improving education in Chajul. 
Fun fact: During her childhood, Odilia was always looking for ways to get her hands on a book; although she didn't know about literary genres, she always loved reading. One day, she wants to write her own book.
---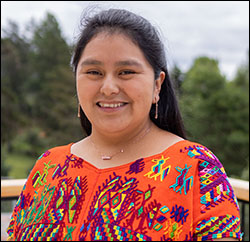 Ana Eymi Canay Canay
Operations & Community Outreach Manager
Eymi was one of the first girls supported by Limitless Horizons Ixil. She was at the top of her class throughout her schooling and received her bilingual (Spanish-English) secretary high school degree in 2012 from Colegio Utatlán de Santa Cruz de Quiché. Eymi joined the staff in 2013 as Program Associate. Eymi continues to study on the weekends, pursuing a joint B.A. and master's degree in business administration at Mariano Gálvez University in Quiché and Quetzaltenango. In Eymi's current role as Operations & Community Outreach Manager, she attends to youth and mothers, coordinates Youth Development Program activities and outreach, and manages accounting and operations. 
Fun fact: Eymi possesses many extraordinary skills, but few know of her uncanny ability to imitate distinctive voices!
---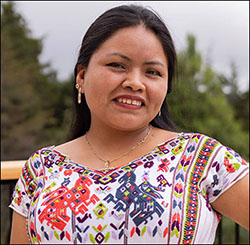 Cecilia Xinic 
Artisan and Technology Coordinator
Cecilia completed high school in Chajul with the support of her grandfather, and not willing to stop pursuing her professional goals, left Chajul to study high school in Uspantán. In 2011, she graduated as a computer expert and returned to Chajul to work at Limitless Horizons Ixil. She also took a vocational class through the computer repair program at INTECAP Sololá with the support of LHI. In 2016, her interest in professional improvement led her to begin to attend the School of Systems Engineering at Universidad Mariano Gálvez de Guatemala. She is currently our technology and art teacher and equips students with the computer skills they will need to face a world increasingly reliant on technology.  She also provides tech support to our computers and other equipment at Limitless Horizons Ixil.  
Fun fact: Cecilia is a trendsetter. She is the first person from Chajul to design a huipil (a traditional, hand-woven blouse) in a lighter and softer style. This style is now popular among women all over town!
---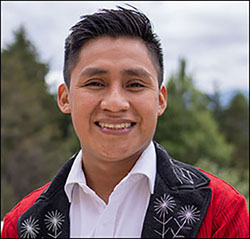 David Imul Calel
Head Librarian

David grew up in Chajul as one of eight siblings. His parents could not afford to send him to middle school, but he was able to continue his studies when he joined our Youth Development Program in 2008. Thanks to his hard work and resourcefulness, David graduated with a high school degree in primary education from the Escuela Normal Regional de Occidente in Sololá. As a student, David frequently completed his work-study and service hours in our library. David joined the staff in 2013, and his warm, engaging demeanor makes him a fantastic librarian. He manages the library's daily operations, leads story hour and reading club, supervises interns and volunteering youth, manages inventory, and helps library members with their assignments. David is also pursuing a degree in agricultural engineering at La Universidad Rural de Guatemala in nearby Nebaj, as his future plans include tackling issues in Chajul related to health, malnutrition, and food access.
Fun fact: David loves languages, already speaking three fluently (Spanish, Ixil, and Quiché), and is eager to practice his growing English vocabulary with visitors.
---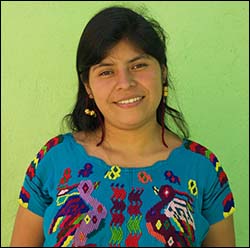 Rosa Regina Rivera Caba
Librarian

Regina joined Limitless Horizons Ixil when she enrolled in the Spanish intensive program in 2010. Thanks to LHI she was able to learn Spanish, and is grateful for the opportunity because she is the eldest and only daughter in a family that only speaks Ixil. In 2014 she graduated high school with a degree in Letters and Science with a focus in Education from the Community Institute for Women in Quetzaltenango. Regina completed her exams at the Universidad de San Carlos de Guatemala. Afterwards she enrolled at the University of San Carlos as a full-time student. In 2015, Regina began studying "Profesorado en Educación Primaria Bilingüe Intercultural." In 2017, she completed her first year of university and is working toward the next three years of study.  Regina is very grateful and joyous that she is currently working at the library. She is always happy to see children come in with smiles on their faces, and finds accomplishment in facilitating their learning and growth.
Fun fact: In her free time, Regina loves to create her own huipils and spend time with her daughter and family. 
---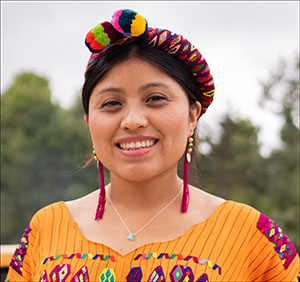 Marina Caba Xinic
Youth Development Program Coordinator
Marina is from Chajul and comes from a family of eight with limited economic resources. Her parents told her she would not be able to continue studying because they could not afford to send both of their daughters to school. However, she earned a scholarship from Limitless Horizons Ixil and was able to continue studying with her older sister. She attended Instituto Normal Mixto Juan de León and completed her degree in urban primary education. She was one of the first to graduate from the Youth Development Program and went on to work for several years as a librarian in the Saber Sin Límites Community Library. As the Youth Development Program Coordinator, she liaises between the organization and our scholars and their families, ensuring their academic and psychosocial needs are addressed. She also coordinates workshops, career panels, good grades celebrations, and tutoring sessions, while supporting with volunteer engagement activities. She is currently pursuing a university degree in psychology on the weekends.
Fun fact: Marina was a part of her high school's soccer team. They would compete against other schools and always won their games!
---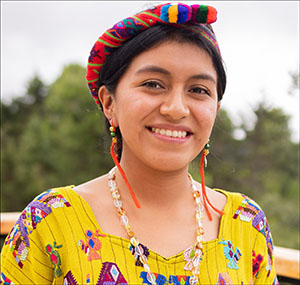 Olga Manuela Caba Laynez
Mentor
Olga was born in Chajul and comes from a family that was deeply affected by Guatemala's civil war. Although her parents never had the opportunity to study, they encouraged Olga and her siblings to obtain an education. Olga attended elementary school in Chajul before receiving a scholarship with Limitless Horizons Ixil that enabled her to continue on to middle and high school. During her time as a scholar, she completed her service hours at the Saber Sin Limites (Limitless Knowledge) community library, where she discovered her passion for art and working with children. While attending high school at the Escuela Normal Bilingue Intercultural in Nebaj, she worked for an educational program that supported youth ages 15+ in math and statistics and held internships that allowed her to combine her interests in art and education. Following her graduation from high school in 2017, Olga volunteered for three months with Save the Children on a variety of youth projects. When she learned about an opening at the Saber Sin Limites (Limitless Knowledge) Community Library, she knew the position was for her! As a librarian, Olga supported various activities for two years. Now she is a part of the mentorship team at Limitless Horizons – her role is to support and empower students to overcome adversities that occur in their daily lives. She also facilitates workshops for parents about how to support their children in reaching academic success. She facilitates discussions on topics that include: sexual education, empowered voices, gender equality, and harmonious communication between students. On the weekends she is working towards her university degree. 
Fun fact: Olga loves to explore, connect with nature and travel to different places to learn about other cultures and how people live.

---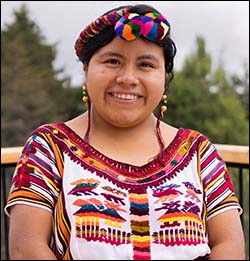 Elisa Melchora Mendoza Pacheco
Administrative and Accounting Assistant

Elisa was born in Chajul, the oldest of eleven siblings.  Her parents were not able to attend school due to Guatemala's internal armed conflict, and she is the first in her family to pursue an education. Elisa earned the first of her Horizontes scholarships in middle school in 2008, and with Horizontes' continued financial scholarship support graduated from high school in 2014, earning her degree in Intercultural Bilingual Education at the Western Regional Normal School in the department of Sololá. After graduating she looked for job opportunities that would allow her to continue her university studies, but nothing  came through. In 2015 Elisa worked as a facilitator teaching adult literacy at Comite Nacional de Alfabetización (CONALFA), and in 2016 worked as an LHI Emerging  Leaders Fellow in a Practice and Learning program in LHI's Community Library. In 2017 she won a scholarship from Fundación para Estudios y Profesionalización Maya (FEPMaya), which allowed her to pursue a Bachelor's degree in Accounting (Public Administration and Auditing) at Mariano Gálvez University. Elisa is currently studying the English language, and in 2022 joined the Horizontes staff as Administrative and Accounting Assistant. Her desk is in LHI's front-office – and Elisa is the first welcoming face people see when they visit LHI.
Fun fact: Elisa's loves making necklaces, earrings, rings and beaded bracelets.
---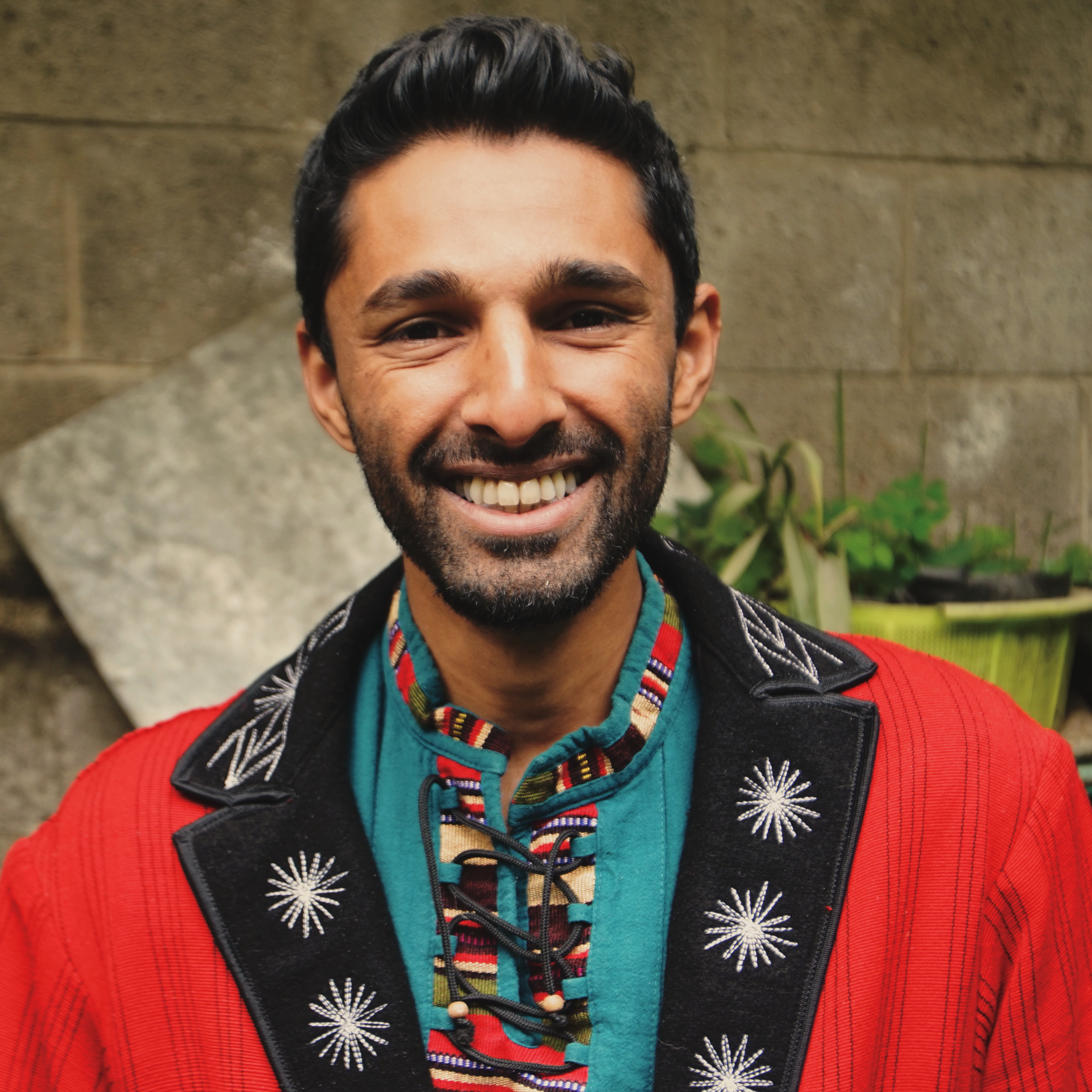 Jason James
Capacity Building & Evaluation Manager
Jason split his childhood between the subways and skyscrapers of New York City and the rice paddies and coconut trees of Kerala, India. At the age of 12 in Bangalore, India, he witnessed the stark contrast between the modern headquarters of multinational corporations and the makeshift shelters of the surrounding slums. Ever since, Jason has been driven to understand and overcome poverty and inequality. That drive has led him along various career paths including working as a public auditor, facilitating youth groups in Los Angeles and Bolivia, and helping to expand participatory budgeting processes in New York. Jason finally embraced the field of international development and earned his master's degree from George Washington University in 2014 with a primary interest in Latin American community-based development. He has been with Limitless Horizons Ixil since 2015 and is currently responsible for impact evaluation, organizational capacity building, and team professional development.
Fun fact: Jason is convinced that coconut oil, baking soda, apple cider vinegar, and green tea are enough for practically all one's shampoo, conditioner, soap, deodorant, toothpaste, and other household needs… plus they're all edible!
---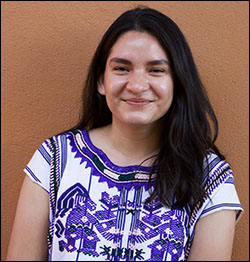 Sonia Membreño
Development & Communications Specialist

Sonia was born and raised in Managua, Nicaragua, the land of lakes and volcanoes, and earned her degree in Graphic Design from the Universidad Centroamericana (UCA) in Managua. In the early years of her career, Sonia was fortunate to focus her design work on projects that touched on issues that were important to her, such as community development, education and awareness, and sexual and reproductive health. In 2016, she joined the AIESEC organization and traveled to an indigenous community in Querétaro, Mexico, to teach local children English and art for two months. It was there that her interest in education grew and where she learned what it meant to travel with a purpose. In the following years, she became more involved in the nonprofit sector, leading student trips in Panama and Costa Rica, serving as Outreach Coordinator for a small nonprofit in the Guatemalan highlands, helping to lead the operations of a new boarding school in Nicaragua for girls from vulnerable communities, and through independent design work. She is delighted to be back in Guatemala and support a cause so close to her heart: transforming educational opportunities and providing a better quality of life for girls. As Development & Communications Specialist, Sonia helps manage donor relations, our sponsorship program, fundraising, communications, and community engagement trips. 
Fun fact: Sonia loves all things art and culture. If she had a superpower, she would speak all the languages in the world.
---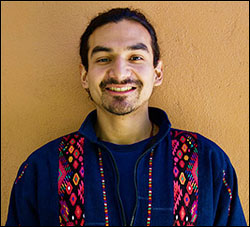 Robert Zúñiga
International Communications and Program Support Coordinator
Robert was born and raised in California to parents that emigrated from Central America. Learning both Spanish and English at an early age, Robert sought to one day integrate his bilingual background into any career he chooses. Therefore, after earning his bachelor's degree, Robert joined the Peace Corps. serving in Panama. While working on various projects, from cacao reforestation to apiculture, Robert ultimately enjoyed being in the classroom supporting teachers with lessons and engaging with students. In 2020, the pandemic interrupted Robert's service and so he returned home and decided to go back to school. After completing his Master's education at the University of Salford in 2022, Robert moved to Nebaj to work closely with the local team in Chajul. He is motivated to contribute to LHI's values with his experiences inside and outside the classroom. As the International Communications and Programs Support Coordinator, Robert is responsible for mediating between the local and international teams, supporting the sponsorship program, monitoring and evaluation, leading trips and supporting visitors, and managing LHI's digital presence.
Fun fact: Robert loves films and will frequently start his sentences with, "Remember that scene in…"
---
Joanna Drew
Grants Manager 
After graduating from college, Joanna ventured off to remote parts of the world to discover new cultures, languages, and ways of life. What she realized through her travels was that the majority of the world's population lacks access to basic social services and quality education. This realization moved her to pursue a career working towards securing equal opportunities for overlooked and vulnerable communities throughout the world. Her career spans three continents, in which she's worked to increase the fundraising capacity of community-led projects and NGOs. She holds a BSc in Business Administration from Boston University and a MA in International Development from the University of Kent Brussels School of International Studies. Joanna is the grants manager and master storyteller for Limitless Horizons Ixil.
Fun fact: Joanna is a life-long student and is always open to learning new things. She believes that every living being has wisdom to share—even the birds and the trees!
---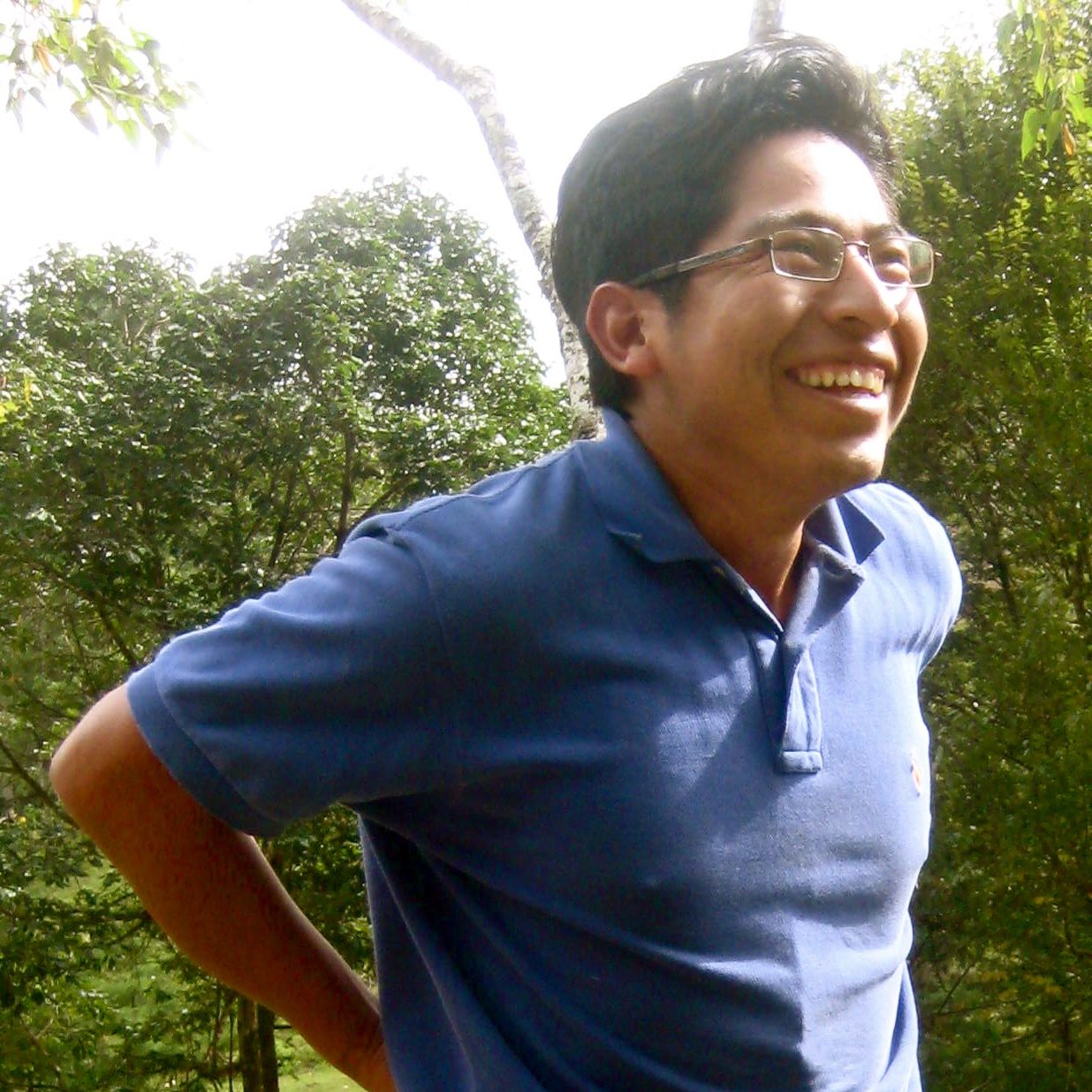 Pedro Caba Asicona
Co-Founder & Advisory Director
Pedro grew up in Chajul during and immediately after the civil war when the community had very few educational opportunities. He was raised working in the fields, carrying firewood, and shining shoes to make a little money. Through sacrifice, luck, and very hard work Pedro became the first person from Chajul to attend university and obtain a bachelor's degree. He completed a certificate in Maya world studies and his degree in civil engineering at the University of San Carlos in Guatemala City. He has earned his Master of Engineering degree and now works to improve water infrastructure in San Marcos, Guatemala. Since co-founding Limitless Horizons Ixil in 2004 with a more hands-on role in its first few years, Pedro's role is now advisory and he supports Limitless Horizons Ixil with guidance on government relations, legal compliance, and financial security in Guatemala and has served as a guide for visiting groups.
Fun fact: Pedro's favorite time to visit Chajul is during feria, the annual town fair.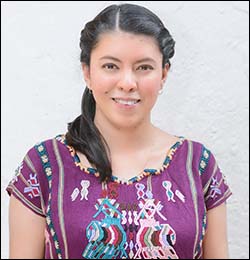 Liliana Berenice Natareno Guzmán

Language and Communication and Entrepreneurship
Berenice grew up in Santa María Nebaj, Quiché, a municipality in the Ixil area near Chajul. She is the eldest of two siblings, and her parents are elementary school teachers. She learned from them that education is the most powerful weapon to transform society, and thanks to them, she developed the desire to be a teacher.  Berenice graduated high school as a bilingual primary education teacher from the Instituto Mixto Diversificado Ixil in Nebaj. Currently, she is attending university to complete her bachelor's degree in Pedagogy and Educational Administration with a specialty in Environment at the prestigious Universidad de San Carlos de Guatemala. For Berenice, Limitless Horizons Ixil has been the first institution to trust her and her abilities, allowing her to teach both Language and Communication and Entrepreneurship courses at Colegio Horizontes. 
Fun fact: She likes to cook and bake cakes on the weekends!
---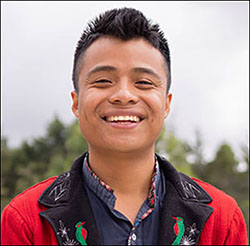 Antonio Laynez Batz
English and Social Studies

Antonio has spent his whole life in Chajul. At 24 years of age, thanks to his parents' efforts and the support of various organizations such as Limitless Horizons Ixil, Filantropis ONG, Fundación Ixil, UVG-Altiplano, Access MicroScholarship Program, and Centro Estudiantil Amanecer, he graduated with a degree in touristic business administration. Antonio is the first of five children, and his parents are illiterate since they did not have access to education due to the internal war in Guatemala. In 2009, he obtained a scholarship from LHI to attend middle school in Chajul. In 2012, he had the opportunity to enroll at the Technical Institute at Universidad del Valle de Guatemala – Campus Altiplano to pursue a Bachelor of Arts and Science degree with another scholarship from the Embassy of the United States in Guatemala to learn English. Antonio has worked as a tour guide and knows and has traveled to various parts of the country. He has also taught English in several private schools in Chajul and has experience in using the English language. In 2019, he graduated from college, presenting his thesis on Mayan clothing in Chajul.  
Fun fact: His interest in the English language dates back to when he was a child. His father used to take him to the Chajul municipal market every Thursday to buy American clothes, and he was always curious to know what the shirts or sweaters had written on them.
---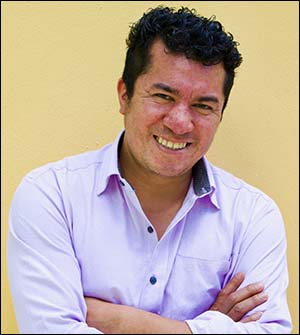 David Raymundo Ceto
Natural Sciences and Movement
David grew up in Santa María Nebaj, Quiché, a municipality in the Ixil area near Chajul, as the sixth of eight siblings. His parents did not have the opportunity to attend school. However, his mother and two older siblings fought for him to graduate high school as a Bilingual Primary Education Teacher from the Instituto Mixto Diversificado Ixil in Nebaj. He is currently studying Agronomic Engineering in Agricultural Production Systems at the Universidad de San Carlos de Guatemala. David believes that at Limitless Horizons Ixil, he has a unique opportunity to combine teaching with agricultural sciences to be an educator of both the Natural Sciences and the Movement courses at Colegio Horizontes. 
Fun fact: He loves to be capturing images with his camera!
---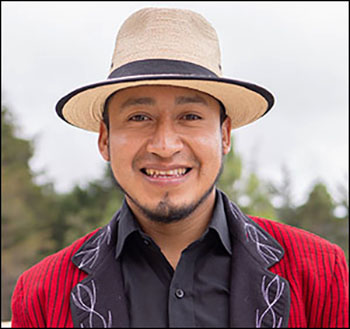 Juan Enrique Santiago Brito
Math and Entrepreneurship
Enrique is originally from Nebaj, Quiché, and his family consists of his parents and his sister. His mother is a housewife who never had the opportunity to go to school, and his father only managed to reach the sixth grade of primary education due to the family's precarious situation. Given this background, Enrique's parents always searched for resources to support him so that he could go to school and have a better quality of life. Enrique has studied for most of his life in Nebaj. In 2017, he succeeded in graduating with a degree in Pedagogy and Educational Administration with a Specialization in Environment from the Universidad de San Carlos de Guatemala. While studying, Enrique held different jobs that helped him pay for his studies. He worked as a waiter, as an education technician for Save the Children, taught at the high school level, and tended a pharmacy. As a professional committed to his region, Enrique has decided to continue his professional training to provide better education to young people who need it so much. He is currently studying for another degree, now specializing in mathematics and physics, at Universidad Rafael Landívar, in Quiché. Enrique is happy for the opportunity that Limitless Horizons Ixil offers him, as well as for the trust they have in him, to be part of this social change that will transform the lives of the students who are part of Colegio Horizontes.
Fun fact: In his free time, Enrique loves to cook and help with the cleaning of the house!
---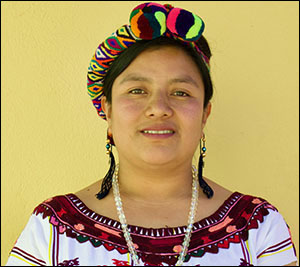 Edilma Magdalena Ihom Hernandez
Ixil Language and Grammar Teacher
Edilma was born and raised in Chajul along with three brothers and three sisters. Coming from humble beginnings, Edilma graduated high school with a degree in Teaching and Primary Education with a focus in Bilingual and Intercultural Studies at the university of San Juan in Ostuncalco, Quetzaltenango in 2009.  Edilma continued with her education by graduating with a Bachelor's degree in bilingual intercultural education. This year, she began teaching Ixil Language and Grammar at Colégio Horizontes. Edilma is approachable, kind, and very talkative. She is the mother of three daughters.
Fun Fact: She loves to interpret the Ixil calendar and meanings of certain dates.
---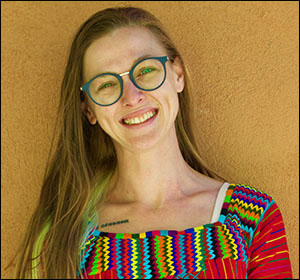 Gergana Krasteva
Operations & Project Development Specialist
Gergana is originally from Bulgaria, where she grew up and lived until adolescence. She moved to Spain with her family in 2006, where she learned to speak and study in Spanish. Gergana's great interest in discovering new cultures and languages soon moved her to explore different countries. Gergana arrived in Guatemala in 2018, and for the last 5 years has been working with various educational projects based in Guatemala, Mexico and Costa Rica. She loves seeing education from different perspectives, and strongly believes it is the most important way to create significant changes in our society. Based in Chajul, she is currently our School Operations and Project Development Specialist, working and learning with the Colegio Horizontes faculty and supporting the colegio's international community.
Fun fact: Gergana is passionate about birdwatching and uses birds and nature metaphors to explain everything.
---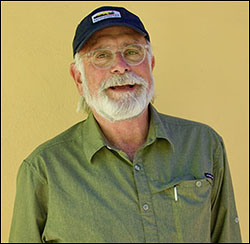 Gary Bloom
Senior Consultant
Gary grew up in Los Angeles, California with his immigrant family, engaging with political and social justice issues at an early age. His professional career has centered in Central California, where he has served as a bilingual teacher, school principal, school superintendent, and at the university level. Gary has written many professional articles and several books, and is an active consultant and trainer in the United States and beyond.
Fun Fact: Gary loves the study of paleontology, and has worked with professional paleontologists searching for fossils in California, Florida, South Dakota, Mexico, Colombia, Peru and Argentina.