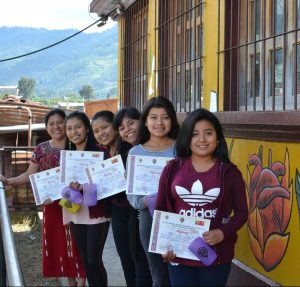 At Limitless Horizons Ixil, we believe in creating opportunities for girls and women. 
This is why we created our Fellowship Program for graduates of our Youth Development Program to gain their first paid work experience and other professional development opportunities.This year, five young women are completing their year-long fellowships with us, which included a five-month course with the 
Defensoría de la Mujer
, a local women's rights organization.
The course, "Discussing Gender Relations," provided tools and resources to confront gender violence. Juana, Cristina, Teresa, Regina, and Diana are now taking the strategies they learned back to younger scholars in local schools, educating hundreds of Ixil youth about gender equality. From presentations on conflict resolution strategies to workshops on self-care, our fellows have gained important skills and experience to actively lead the movement for women's rights in Chajul.
Will you support us to empower young women 
to stand up for their rights?
The workshops have opened new doors for Juana, who is applying to study nursing in university. Now, Juana is comfortable leading workshops for parents and youth on sexual violence prevention, and feels she now has the knowledge to advise others on these challenging topics.
In a society shaped by prejudiced attitudes towards women, having a space to share openly and focus on individual and collective well-being is important. 
At Limitless Horizons Ixil, we know that greater gender equality will allow girls to reach their full potential and strengthen the entire community. 
We are dedicated to improving the lives of women and girls in Chajul through education.
As the "Me Too" movement grows louder around the world, we invite you to join us in our work to eliminate gender-based violence in Chajul.