Limitless Horizons Ixil is transforming the lives of Chajul's women by investing in the area's most promising youth—girls and boys alike. Men are critical players in achieving gender equality, and while our programs are targeted to girls, it's why we include boys. They grow up to become husbands, fathers, and colleagues who advocate for the women in their community. Our librarian David—a Youth Development Program alum—is leading this charge. Our colleague David, a Youth Development Program alum, is leading this charge—hear him share his perspective on gender and equality in this short video! As Head Librarian, David was also instrumental in our innovative work in providing remote literacy programming during the pandemic, which was awarded the 2021 UNESCO King Sejong Literacy Prize!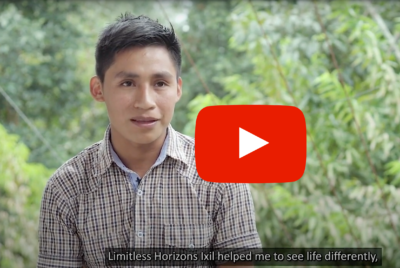 David and Eymi are both from our earliest groups of sponsored youth, and they're happily married and co-parent a two year old. Since graduating high school, they've been working at Limitless Horizons Ixil—more than 7 years each. David manages our Saber Sin Límites (Limitless Knowledge) Community Library, and Eymi oversees community outreach. 
Support our pioneering staff and scholars, who are building a culture of gender equality.

Gifts of $125+ will go twice as far, thanks to a generous $10K match by two anonymous donors!
Eymi is also on track to become the second woman from Chajul ever to earn a master's degree—a tremendous feat given that less than 1% of girls in the community even finish high school! Eymi is able to do it all with David's support. He not only encourages her career and education, but he also shares responsibilities like cooking, cleaning, and caring for their son Emmanuel—tasks traditionally only done by females in Chajul. Before getting married in their mid-20s, the pair saved enough money to build their own home, enabling them to make decisions as a team.
This is in stark contrast to a typical Chajul marriage where the bride is a young teenager and is expected to move in with the husband's family, serve the men of the house, stop her education, and not seek employment. We are proud to support youth to finish school and build careers before marriage like Eymi and David. And we have been successful: 83% of scholars' mothers had children before age 23, compared with just 18% of our program's graduates.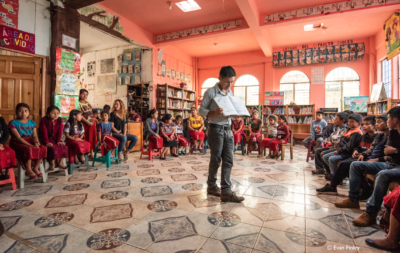 It's hard to be a pioneer. David and Eymi have faced criticism from community members who perceive her success and his domestic duties as emasculating. As a couple, they face this as a united force, carefully and lovingly educating others about the advantages of equality, while actively honoring Chajul's many other rich traditions. Eymi and David are role models for the young people in our library, our Youth Development Program, our soon-to-open middle school, and the broader community.
Although naturally kind and compassionate, David credits his experiences at Limitless Horizons Ixil—as a scholar and a staff member—for evolving his views on gender equality. 
David is a true role model for our scholars, especially the boys. A quarter of the incoming students at our inaugural school are motivated boys who'll become allies in women's empowerment. David is mentoring these young men, creating a safe space for them to discuss these important topics, and showing them how to embody what's being taught. Through their work and the example of their own lives, David and Eymi are inspiring future generations and providing a roadmap to navigate gender equality transformations in their community.