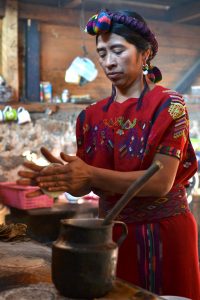 This Mother's Day, the Limitless Horizons Ixil team is celebrating Chajul's mothers. We are taking the opportunity to tell you about one LHI mother, Ana Caba Sánchez, including the challenges and successes she has had, growing up during Guatemala's 36-year armed conflict and raising seven children.
Ana expertly slaps corn dough into flat round discs of tortilla and lays them out on the comal, or traditional hotplate. Underneath burns the wood her husband carried back from the surrounding forest. Two of her seven children play barefoot on the dirt floor.
Being a mother is, undoubtedly, always an exercise in multi-tasking. In Chajul, mothers often wake up at 4am to clean, prepare food, and have some uninterrupted time to weave huipiles, Guatemala's traditional woven shirts, before their children wake. For many families, their sole income relies upon wood or corn cut by the men of the family and the occasional sale of textiles woven by the women of the family.
Traditional gender roles are still entrenched in Chajul society; however, with increased educational access for women, that is changing.
Ana's oldest child is 20-year-old Teresa Rocelda, a Limitless Horizons Ixil Youth Development alumna who just finished her one-year Fellowship in Administration and Artesanía with us. She is the first in her family to finish high school and never imagined that she would be able to go on to university. Supported by an LHI scholarship, she is now in her second year of university studying Business Administration.
Ana's mother, Teresa's grandmother, died when Ana was a baby and her father while working in the corn fields when she was just eleven years old. She grew up during the armed conflict and spent her time walking barefoot around the town, wondering how she would earn money for food. "When I was very young, I taught myself to weave. I saw others doing it and then selling their huipiles, so I wanted to do the same," Ana says, stroking the intricate threads of her huipil. Several decades later, she became part of LHI's Artisan Program, while her daughter embarked upon a very different path from her mother's.
Despite her difficult childhood and lack of access to educational opportunities, Ana says that she is inspired by big dreams for her daughters.
She hopes that her younger daughters will follow in Teresa Rocelda's footsteps by finishing school and carrying on to university. She tells us that she hopes they will have the same rights as men and boys in the community, as that is what still needs to change.
On this special day, we honor Ana Caba Sánchez and all mothers who make enormous sacrifices so that their daughters and sons can walk confidently towards brighter futures.