| | |
| --- | --- |
| | |
| Catriona Spaven-Donn spent most of the first year of the pandemic living and working in the Ixil Region of Guatemala as Limitless Horizons Ixil's International Coordinator. Here she shares her reflections, one year later. | |
We were sitting under the terracotta tiled roof of the Limitless Horizons Ixil office, anxiously eating black beans and rice with tortillas. It was 11th March 2020 and the Guatemalan Health Minister, Hugo Monroy, had just announced that entry into the country was banned for all Europeans. Quarantine and COVID-19 tests were a novelty then, in the first months of the pandemic, and we felt nervous about what this meant.
Filipa, LHI's current Operations & Project Development Specialist, and I both feared international travel bans and were unsure when or if we'd be able to get back to our respective homes and families in Portugal and Scotland. Meanwhile, Jason, LHI's Capacity Building & Evaluation Manager, had just arrived from New York, excited to reconnect with friends and travel around Guatemala… none of us could have predicted what the coming weeks would actually hold.
The first case of COVID-19 in Guatemala was announced on March 13th, when Italy already had 2,547 cases and the USA, 556. One week later, the USA had ten times that many cases, while Guatemala had contained the spread of the virus with a host of measures never before seen in the country. All events with any number of people were prohibited, public transport was entirely shut down and a nightly curfew was introduced.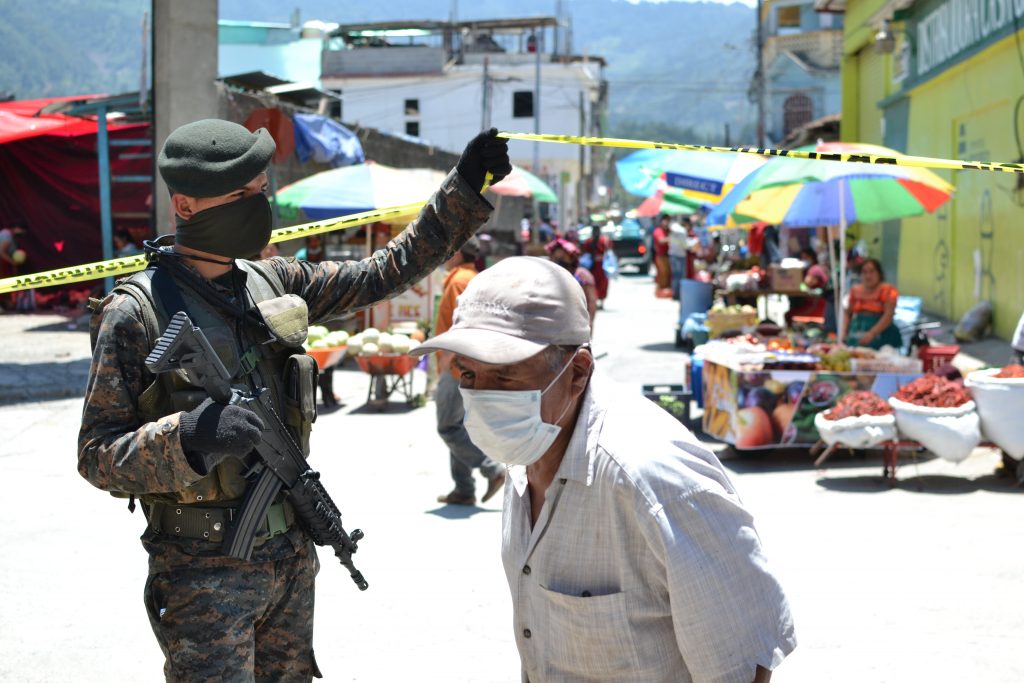 During the following weeks, we watched as cases rose and hospitals became inundated in Europe and the USA. Meanwhile, in Guatemala, face masks quickly became compulsory both indoors and outdoors with fines issued if people didn't comply. Armed police guarded the market entrances and patrols passed at night as people ran home before curfew.
We stayed indoors with our cat and played board games, conducting our Limitless Horizons Ixil work from Nebaj, no longer able to travel to the office in Chajul. Over the following months, Filipa made it home to Lisbon, and Jason to New York. I stayed on in Nebaj and my partner and I took advantage of enforced lockdown by creating a vegetable garden and greenhouse from scratch. We planted 25 different types of fruit and vegetables with Ixil youth, teaching and learning from them about seeds and agro-ecology. Witnessing the local impacts of the pandemic on food and education access, we became passionate about nature education and community growing strategies.
In Guatemala, almost half of children are stunted due to some of the world's highest rates of food insecurity. As the country endured lockdown restrictions, more and more white flags began to appear on roadsides and in town centers, a distress signal from families unable to feed their children. 70% of Guatemalans work in the informal economy and for many, lockdown entailed a total loss of income.
More than half of the families Limitless Horizons Ixil works with hadn't received any government food assistance by mid-2020, despite Chajul being one of the country's poorest municipalities. 94% of families that Limitless Horizons Ixil surveyed said that the food baskets they received from us were the biggest and most important support they had received.
Soon after I left Guatemala in October, the Ixil Region was rocked by Hurricanes Eta and Iota. Landslides and ferocious river floods destroyed homes and killed families. In an area almost entirely reliant on subsistence agriculture, crops were ruined and food stocks disappeared.
While people across the country went hungry, President Giammattei proposed $25 million of budget cuts from healthcare, nutrition & education programs, while increasing congressional representatives' meal stipend by $65,000. People protested in the capital as the layers of challenge increased – the pandemic was only the backdrop to the acute difficulty of daily survival.
The hurricane relief effort remains ongoing 
Meanwhile, in the Ixil Region, food donations continued to arrive after landslides washed away bridges and road access. In a time of global crisis, international solidarity and action have never been more important. As well as poverty, food insecurity and lack of access to education, Guatemala is also among the top ten countries who will feel the worst effects of climate change. The scale of the problems facing the world's most vulnerable communities often feels overwhelming and unstoppable. We certainly could never have predicted the challenge and tragedy of this past year.
However, globally, local food movements are growing and strengthening as food security is prioritized in national and regional agendas. When a child has access to good nutrition, they are better able to learn. When communities are self-sufficient and able to rely on varied diets grown on their own land, they are more resilient to disaster.  
It's now April in Scotland and, a year since the start of the pandemic, we're sowing seeds and looking ahead to our small harvest. I hope to return to Guatemala later this year, to the Land of Eternal Spring, to keep growing and cultivating hope with young people in the Ixil Region; for no matter where we are, every seed planted can make a difference.