"I am excited to study at Colegio Horizontes because I want to improve my Spanish, learn new vocabulary, and improve my math skills, while also becoming an empowered woman who supports other women." – Joselina, Colegio Horizontes student
Joselina just finished 7th grade at our recently opened school, Colegio Horizontes, on her way to becoming the first in her family with a high school degree. This is a monumental achievement in a community where most girls don't even make it to middle school. It was a year filled with milestones and accomplishments, far beyond what we could have ever imagined. She and her peers represent the positive impact that a high-quality, girl-focused education can have—our team has already seen immense progress in just the first year!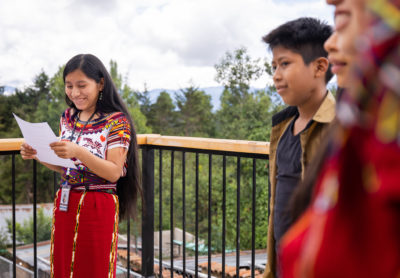 Joselina comes from a single-parent household where her mom, María, didn't have the opportunity to go to school, never learning to read or write, nor to speak Spanish. At age 19, María had her first child. In the years since, her husband left her and her two daughters, not visiting nor supporting them financially. María and her daughters live in a shared house with 10 other family members, including Joselina's grandparents and cousins. María works hard to support her family, selling her handmade weavings and growing and selling tomatoes. On weekends and school vacations Joselina makes her own beautiful artisan items and helps with her mom's sales.
María has always dreamed of a better future for her children, a future with professional work opportunities that can lead to a life outside of poverty. When she heard about Colegio Horizontes, she knew she wanted Joselina to attend. She guided her through the application process, and now religiously checks in with Joselina's teachers to see how she is doing. In just one year, María has already seen an immense impact on her daughter and on their community. 
"The big changes Colegio Horizontes is making in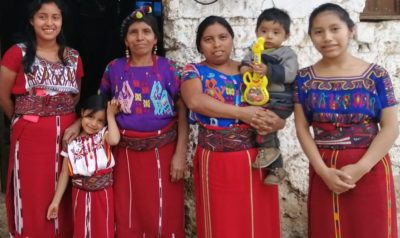 Chajul is providing opportunities for women, opening doors so they can achieve their dreams." – María
In January, when Joselina and her 23 classmates (⅔ girls) began with Colegio Horizontes, she struggled tremendously to express herself in both her native Ixil and in Spanish. After a year immersed in a high-quality, safe, and supportive learning environment with dynamic, interactive classes, Joselina has found her voice. She is empowered, confident, and expresses herself freely, seeing herself as an equal to her male classmates.
"Joselina is an outstanding student who we've loved watching grow this year. She shares with her family what she learns each day, teaching her cousins lessons from her classes, including about water conservation and gardening."  – Olga, life skills & artistic expression teacher
While Joselina has excelled in all her classes, her favorite subjects are math and art. She loves "learning new strategies and different techniques to solve problems." Math is one of the most difficult subjects for Chajul's students, with just 1% of high school graduates passing the national exam. To break down barriers, our teachers plan and lead engaging classes so students learn to think critically and understand difficult subjects like math. As a result, Joselina and her peers are learning to truly love the subject! As an environmentally sustainable school powered entirely by solar panels, learning goes uninterrupted by frequent community-wide power outages and is a model for environmentally friendly practices.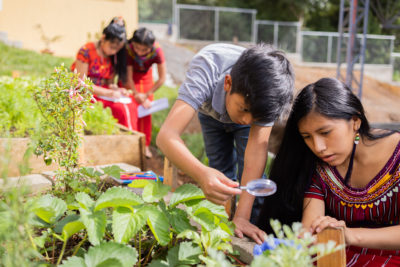 Joselina loves being in school all day (compared to 4.5 hours in local schools) and particularly enjoys hands-on lessons in the garden, where vegetables and fruits are grown and then used in nutritious school meals. Joselina loves learning and can't wait to start classes again in January.   
We can't wait to see where Joselina's passions and new skills take her! Her dream is to become the first in her family to graduate from college to become a nurse for Chajul so that she can help her fellow community members. Her mom María is excited for her daughter to provide medical services in Chajul, where there are few bilingual (Spanish-Ixil) female providers.
With our first school year recently coming to a close, and brimming with pride and gratitude, María wanted to share with you: "Thank you from the bottom of my heart for the support and trust you hold in the Limitless Horizons Ixil team. Thank you for thinking of the families most in need in Chajul, and for extending a hand so that our small community has the opportunity for change."
 While we prepare to welcome our second class of students in January, the entire Limitless Horizons Ixil team thanks you for joining us to expand and deepen high-quality and holistic education in Chajul!