Offering New Perspectives on Gender Roles & Gender Equality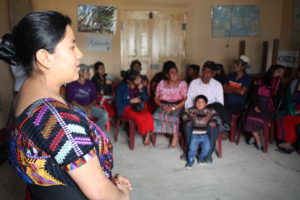 Every month, Limitless Horizons Ixil hosts workshops for our Youth Development Program scholars to provide them with access to information and resources addressing social issues. We also educate their parents and provide training about tools to better communicate about these issues with their children. We recently hosted a workshop for both parents and scholars on gender equality to expose everyone to different perspectives and promote social and economic equality within their families.
We then expanded on this by having our young scholars participate in a workshop series about traditional ideas of masculinity and femininity. Scholars shared their perspectives on expectations for men and women. They discussed whether or not these are fair expectations, and how they can be change-makers to create new images of men and women. Everyone found these discussions to be interesting and productive, and scholars enjoyed their robust discussions about breaking down gender barriers and out of traditional roles, to create positive community change.
Scholar Spotlight: Margarita Estela
Meet Margarita Estela.
 She is 13 years old and one of our newest scholars in the Youth Development Program. With nine older siblings, she and her family need our support so she can continue her education into middle school. She is the youngest in her family, and her parents do not have a stable income to fund her education. As a Limitless Horizons Ixil scholar, Estela receives
tutoring, workshops, and individual counseling
, plus her monthly scholarship and school supplies. Her dream is to become a middle school Spanish teacher and we're confident she can achieve it! Estela is still need of a sponsor to help
make her dreams into a reality
. You can be a part of her journey as her sponsor — you'll receive personal letter updates from Estela and photos. Don't miss out on this special experience to sponsor Estela or another scholar today! For more info, email 
info@limitlesshorizonsixil.org
Expanding Library Services with Tutoring
We recently added structured tutoring time to the offerings at our Saber Sin Limites (Limitless Knowledge) Community Library, after hearing feedback that library members could use more homework help. Librarian David helps with physics and chemistry one day a week, and our math tutor Santos provides math tutoring on another day. There's also English homework help led by Antonio, one of our Youth Development Program graduates and Operations Intern who learned English as part of his high school studies.
Students in elementary and middle school are taking advantage of these new tutoring hours, and they've shared that they are now understanding their homework much better! Interestingly, English tutoring is the most popular topic. We're thrilled to be able to offer this tutoring time to promote learning and good homework habits within the community of Chajul!
Join Us in Guatemala this Summer!
Have you thought about your plans for this summer? Join our community engagement trip for a 10-day adventure (Aug. 1-10) in Guatemala to see our programs in action and explore the beautiful sites that Guatemala offers. In Chajul, you'll combine important service work with cultural immersion experiences, which are sure to be an experience of a lifetime. The deadline to enroll is June 1! For more info, please email lisa@limitlesshorizonsixil.org or visit our trip website.
Shop with us this Mother's Day!
Mother's Day is just around the corner! This year, consider showing the moms in your life some love and appreciation with a gift of beautiful artisan goods created by our mothers. Our Artisan Program empowers artisans to support their children and gain decision-making power regarding their family's finances. You can shop our artisan products online, or if you are in the Santa Cruz area, please email us and come by our office in the Sash Mill (Monday – Thursday). We have beautiful products including new styles just developed by our artisans, such as beaded jewelry and soft, lightweight scarves and shawls. Learn more about our artisan mothers, like Maria pictured above, by following our countdown to Mother's Day on Facebook! Support our mothers while shopping for yours!