Nadine Ann Skinner, Outreach Director
A few months ago, I had the pleasure of visiting Limitless Horizons Ixil's operations in Chajul. As the newest member of the Limitless Horizons Ixil team, I couldn't wait to see our programs in action. After many hours of flights, "chicken" buses, microbuses, and some very windy roads, I eventually arrived in Chajul. From my first moments in town, I was impressed by the beauty of the place. Chajul invokes the feeling of a small mountain hamlet. The whole town smells of wood-burning smoke, from families cooking their meals on open fires. The women walk around in brightly colored huipiles (traditional woven blouses) and red cortes (Maya skirts fastened with a woven belt), their children attached to their backs by embroidered shawls. The men carry machetes and bundles of firewood strapped to their foreheads.
On my first day we ate lunch at the home of a local family. The mother prepared boxbol, a local delicacy made of cornmeal and squash leaves, over a firewood stove on a dirt floor. The walls of her two-room home were blackened by soot from the fire. Pinned on the walls were prized pictures of family members. A young boy proudly practiced his Spanish language cards, his earnest desire to learn shining through his actions. This boy's diligence and ambition are not rare in Chajul.
I've worked with children for over a decade, but I've never met a group of children so determined to learn.
The next day I visited San Gaspar, the local middle school. Due to a death in the family, one of the teachers left early. This did not deter the students from continuing their lessons. One student, the class president, walked up to the front of the class and sat in the teacher's desk. He began to call on other students to present. Just like that, the students continued class without the teacher, giving presentations to each other about what they had learned.
Later, I ate lunch at the home of a former Youth Development Program student, Josefina. As we ate, Josefina regaled us with her entrepreneurial ideas for sustainable businesses she wanted to create in Chajul, her fevered speech interrupted only by calls on her cell phone fr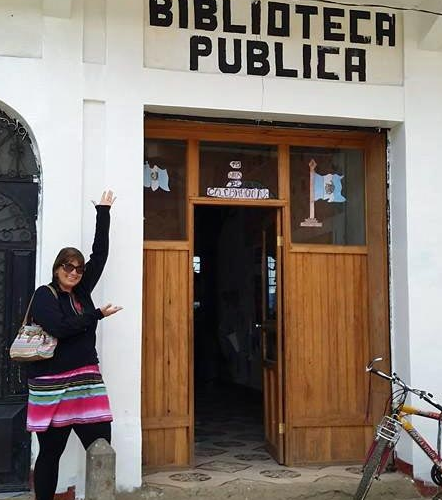 om her friends.
After listening to our eager host, I was excited for what I thought would be a tranquil weaving lesson. I've embroidered and knit, but I was not prepared for back-strap weaving. My instructor's hands flew over the loom, deftly turning strand after strand of thread into tightly woven cloth. However, the first lines of cloth I mustered were knotted and uneven. After my lesson, my instructor sent her two small children to escort me back to town. As I walked back to the village, the local children hollered "hola" as we passed, giggling as I responded. My young guides blushed from the attention.
This was not the only time my very presence amused the children of Chajul. The next day, our community library hosted its weekly story hour. Each librarian took a turn at reading a book to the group of various ages. The enthusiasm that each librarian brought in each story, asking questions and singing songs, engaged the children, as they shouted out answers and sang along. I was spellbound by the stories, excited to find out what happened next, or join in at the next song or dance. My dancing was met with a ton of laughter, as well as a host of willing instructors.
One my last day in Chajul I sat down with Youth Development Program participants to hear what the youth thought of the program. I anticipated that I would hear route answers about what they wanted to study in school and what they did in their free time. Instead, I heard impassioned speeches about the power of education and their dreams for the future, from Maty who wants to stop the environmental degradation of her community, to Baltazar who dreams of becoming a politician and changing the system of endemic corruption in Guatemala, to Magdalena, who practices sign language and wants to study at university to learn how to work with children with special needs.
I left Chajul proud to be a part of Limitless Horizons Ixil's work and impressed with this community of young scholars, who will follow their dreams and change their home for the better.
Sponsors! Inspired to meet your student in Chajul?
Explore, Learn, and Serve!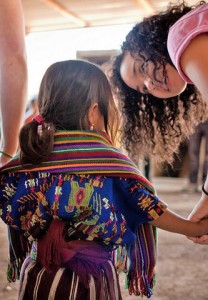 We are hosting our Community Engagement Trip from July 31 to August 9, 2015 and we'd love for you to join us!
During your trip across Guatemala you will visit the UNESCO World Heritage Site of Antigua, one of the world's largest handicraft markets in Chichicastenango, and the mystical volcanic Lake Atitlan before discovering the tranquil beauty of the Ixil highlands. In Chajul, you will experience daily life in a remote Maya village while engaging in community development and education projects.
This is a unique opportunity to engage in dialogue with our students, hear from our families about their experiences, learn about back-strap weaving from mothers in our artisan program, and contribute to the community by engaging in meaningful service work alongside community members.
We invite you to join our experienced and trusted staff on this trip of a lifetime.
For more information on this trip, click here or email [email protected]org