Santa Cruz, CA, Wednesday, April 23, 2014: On Monday, May 12th (7–8:30PM) at the Resource Center for Nonviolence, Limitless Horizons Ixil's (LHI) Managing Director, Verónica Yat Tiu, is making her first visit to the US from Chajul, Guatemala, in celebration of 10 years of LHI's progress in the community. She will share about her experience as a Maya leader in rural Guatemala, the country's transformation in the aftermath of the Guatemalan Civil War, and LHI's work to create opportunities for her community's youth and families.
Yat Tiu was raised in Chajul during and after the Guatemalan Civil War. Chajul is a small, remote community nestled in the rural highlands of Quiché, one of Guatemala's 22 geographic departments. Its population is Maya Ixil, an indigenous group that was the target of genocide during the country's 36-year civil war.
The war officially ended with the 1996 Peace Accords, but Chajul's struggle to recover continues today. On May 10, 2013, former Guatemalan President, José Efraín Ríos Montt, was convicted of genocide and crimes against humanity for his brutal acts against indigenous Guatemalans during the war. He was the first former head of state ever to be convicted of genocide by a court in his own country. However, the Constitutional Court of Guatemala overturned the conviction on May 20, 2013, voiding all proceedings. Officials state that Ríos Montt's trial will resume in January 2015.
Yat Tiu is one of the first women from Chajul to become a university-educated professional, through hard work, a scholarship, and her mother's sacrifice. An experienced community organizer and a fearless leader, Yat Tiu has overcome substantial obstacles to become a powerful, respected community leader, and she is proud to devote her career to providing opportunities and education to others in her own community. Yat Tiu believes "with the support of the people, we can work together on community development and make a real difference."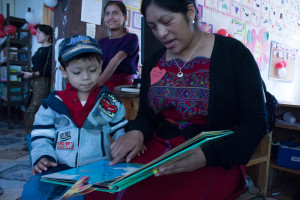 About Limitless Horizons Ixil: Since 2004, Limitless Horizons Ixil (LHI) has created opportunities for the indigenous youth and families of Chajul, Guatemala. Our team of Guatemalan and international staff support sustainable community advancement and individual empowerment through three integrated programs: a youth development program, a community library (the first and only in the county), and an artisan program. LHI believes that education is the cornerstone of creating a brighter future, both for the individual and for the community. In supporting academic and personal development and cultivating literacy skills, we pave the way towards a future of limitless opportunities and broad new horizons for the Ixil community of Chajul.