It's 7:45 on a rainy Thursday morning, and a small group of 8th grade scholars are huddled together at the entrance of Limitless Horizons Ixil's community center in Chajul, Guatemala. "Buenos días!" they call out cheerfully as they spot Technology and Artisan Program Coordinator Cecilia approaching. They've arrived early for computer class and are eager to get started with today's lesson: how to make a PowerPoint presentation.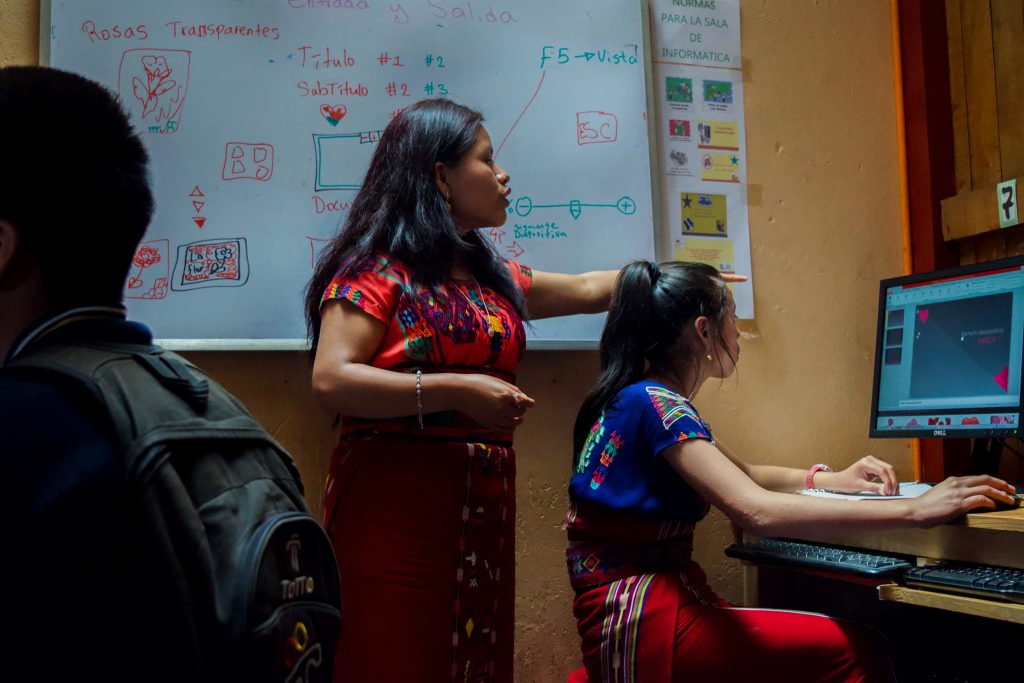 Cecilia's weekly computer classes are a key part of Limitless Horizons Ixil's initiative to provide interactive science, technology, engineering, and math (STEM) education to Chajul's youth. Despite an increasing demand for STEM professionals to address the community's problems, from contaminated drinking water to soil erosion and rapid deforestation, local schools are failing to provide adequate instruction in these subjects. In 2016, 99% of high school graduates in Chajul failed the national exams in math.

Chajul needs highly skilled health workers, engineers, environmental scientists, and more. We need your help preparing youth for these essential roles.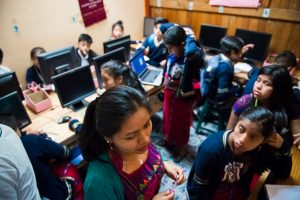 For Cecilia, it was a long and difficult journey to get where she is now, as the first woman from Chajul to pursue a computer science degree at university. This was possible thanks to her courage, hard work, and a staff scholarship from Limitless Horizons Ixil. Cecilia is the eldest of six children in a family that had suffered loss and forced displacement during Guatemala's 36-year Civil War. Despite their poverty, her family managed to send Cecilia to school on the condition that she would help her younger siblings get an education too.
Cecilia dreamed of becoming a secretary because she thought typing
looked fun. When she learned there were more career options involving
computers, she decided to study information technology at a high school outside of Chajul. Leaving home brought increased financial hardship, and she struggled with hunger, exhaustion, and homesickness throughout her studies. When she wasn't doing homework, she wove and sold huipiles (traditional blouses) to help her earn enough money to stay in school."I was the only Maya Ixil person in the class, and one of very few girls. We faced harassment but we stuck together, and ultimately we proved to the boys that we were just as capable."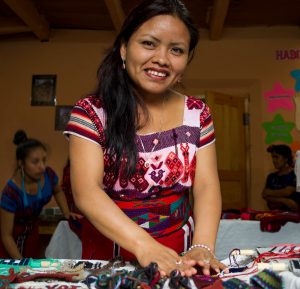 In order to graduate from high school, Cecilia returned home to Chajul to complete an internship at Limitless Horizons Ixil. She taught computer classes to scholars in our Youth Development Program, and helped mothers put their traditional weaving skills to work for a fair paycheck in our Artisan Program. Her dedication, talent, and versatility eventually earned her a full-time staff position. Though her skillset is unusual, Cecilia believes tradition and technological innovation go hand-in-hand. "When I weave traditional huipiles, I maintain the basic techniques while incorporating new color combinations and designs. Innovation is about balance; I teach my students that it's possible to conserve our culture and embrace new ideas."
Making good on her promise to her family, Cecilia is now helping pay for her younger siblings to go to school. Her younger sister is also studying technology, and the two of them dream of opening a shop in Chajul where they can fix computers and sell their huipiles. A fiercely independent Maya Ixil woman who is full of pride for her family and community, Cecilia is the perfect role model for our scholars of where a STEM education can lead.